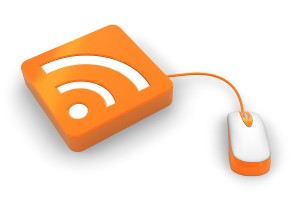 RSS–often called Really Simple Syndication–is a technology you can use to have web content, most often blog posts, sent to you whenever there's a new post or new content.
Unlike bookmarking a site, where you have to go and check to see if your favorite site has new content, with RSS you are notified automatically anytime there is something new.
Subscribe Via RSS
When you subscribe via RSS, new blog posts are automatically sent (fed) to you via an RSS reader. For the most part, you don't need any additional software to subscribe via RSS. Most web browsers (Internet Explorer, Mozilla, Safari) have RSS readers built into them. You subscribe to the blog's feed by clicking an RSS icon at the blog site, then choosing the reader you'll use to view them. The RSS reader checks the blog regularly and downloads any updates that it finds. When you go to your RSS reader, you'll find a list of new posts.
While using your browser's RSS feed is easy, using a web-based browser, such as Google Reader lets you read posts from any computer, anywhere.
To subscribe to WebOver50's RSS feed, click "RSS" in the "Keep up with WebOver50!" box in the right-hand column.
Or Subscribe Via E-Mail
You'd like to receive new WebOver50 blog posts automatically, but you don't want to bother with RSS? No problem! You can also receive new posts automatically via e-mail. Just enter your e-mail address in the subscribe field in the masthead, then click "Subscribe."

<!– .entry-content –>