Who Is Craig and What's His List?
By Marilynne Rudick on October 8, 2010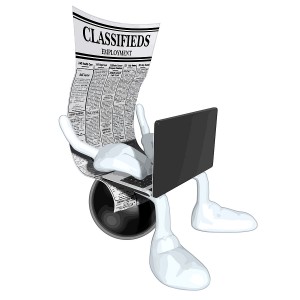 Craigslist is the world's largest compilation of classified ads. Regardless of where you are and what you want–job, house, furniture, car–you're likely to find it on Craigslist.
Craigslist is the brainchild of Craig Newman who, in 1995, started the list to create community by listing social events in the San Francisco area and distributing his list via e-mail. Soon Silicon Valley types began posting jobs on the list. It quickly outgrew its e-mail interface and became web based. The list now encompasses 700 locations in more than 70 countries.
A major draw of Craigslist is that except for job postings in major cities, it's free. Like newspaper classifieds, it's local. You post your ad to a specific location–Boston, New York, Paris–and your ad appears in that local section only. It is mostly cash and carry. Find an antique armoire you like. Pay in greenbacks and haul it home.
Simple to Use
Despite its enormous growth, Craigslist has retained its simplicity. It has eschewed fancy graphics and flash animation and has remained a text-based list. To search the classifieds, choose a location (Austin), then a category (sales). Within that category, choose  the item you are interested in (RV). You'll get a list of RVs for sale in the Austin area. The list is organized chronologically with the latest posting first. Click on an item (1975 Airstream  Sovereign) to view the ad. To respond, click on the e-mail address listed in the ad.
It's equally simple to post an ad. Click Post to Classifieds, at the top  of the right-hand column. Then select the category  (housing) and subcategory (apts wanted). Enter your content into the ad template. Craigslist protects the identity of  the poster by providing a Craigslist e-mail address. That means that the e-mail address of the poster  is not public. Craigslist then forwards the responses to the poster's real e-mail address.
Love It or Hate It
Craigslist has its lovers and haters. First the lovers: among them, my cousin who sold almost the entire contents of her house–even the junk–when she moved from a five-bedroom house to a two-bedroom condo. Many job recruiters and job seekers love Craigslist. More than two million new jobs are listed each month. In addition to replying to job listings, you can also post a  job wanted ad or post a resume.
Among the haters: a friend who listed an apartment rental ad. He came within inches of falling for a scam: a Nigerian con artist posing as a London businessman. (I'll send you  a certified check for $4000, deduct the $2000 rent and wire me the remaining money.) Happily, before wiring the money, my friend took the "certified" check to his bank, where it was declared bogus.
Among Craiglist's other detractors were advocacy groups and state attorney generals who pressured Craigslist to eliminate its Adult Services ads. In September 2010, Craigslist removed this category from its listings. Among the unintended consequences: law enforcement officials who used these ads to monitor and track down prostitution rings and other sex crime offenders no longer had this tool.
How to Use Craigslist Safely
The vast majority of people using Craigslist are honest and find Craigslist a great way to buy, sell, get a  job or find a place to live. You too can use this great classified ad service successfully by using common sense and the same caution you'd use for any online transaction. If it sounds too good to be true, it probably is. Limit the personal information you post on the site, and never give out your social security number or bank account information. If you are the seller, accept cash only. Craigslist posts information about popular scams and tips for avoiding them.
Share Your Craigslist Story
Have you used Craigslist? Have you found a great job or had a good experience buying or selling?  Or have you had a bad experience and want to share what you've learned?  Add your comments to this post.
Learn More
<!– .entry-utility –>

<!– #post-1331 –>

<!– #content –>